Cannabidiol (CBD) is a chemical compound commonly found in cannabis plants like hemp. It is recognized for the benefits it helps enhance a person's overall well-being. This cannabinoid can bring balance to the internal processes of the body by interacting with the endocannabinoid system, which is considered the body's master regulator.
In the last years, the demand for CBD (Cannabidiol) has exponentially grown, which lead to the production of different types of CBD products that allow users to enjoy its benefits in several ways. It can be tricky to shop for CBD, especially to those who are about to use it for the first time since there are so many options to choose from.
Two of the most common methods are CBD oil and CBD capsules. 
Technically, CBD oil is typically used as a base to create a variety of products such as tinctures, topicals, and even capsules. This means that CBD capsules are just another way to consume CBD oil.
However, there are still some differences between CBD oil and CBD capsules. The most glaring difference is their physical structure. Capsules contain CBD oil that is enclosed in a hard and outer shell. On the other hand, CBD oil is cannabidiol in liquid form and stored in bottles. More than their physical attributes, these products each have unique properties that make them attractive for use.
CBD Oil
Immediate Effect Overall
Many people who are looking to try CBD products will often ask how fast can CBD products take effect on the body. The delivery method of your choice is a factor in the strength and distribution of CBD into your system. Some forms are more effective than others. If a fast effect is what you're looking for, CBD oil is your best bet.
CBD oil is usually consumed sublingually. The sublingual administration refers to placing CBD oil or tinctures directly under the tongue, which will be absorbed by the mucus membrane. This route of administration offers rapid access to the bloodstream.
Can Easily Be Added to Drinks and Food
CBD-infused food and drink products have filled the market, but there are also options for people with a preference is to prepare things yourself. Infusing CBD oil in food is also becoming common practice for CBD users because of its convenient eye-dropper format. It's a seamless way to add a serving of CBD to your daily life. At the same time, adding CBD to your already-prepared food can improve how well it is absorbed. Fatty acids found in many foods allow CBD to move through the body faster by acting as carriers for cannabinoids like CBD.
However, it's not the easiest way to use CBD oil. There are some limitations when it comes to cooking with CBD, as it does not react well to extreme temperatures. CBD can evaporate and lose its potency once it's exposed to extreme heat. This could reduce the health benefits.
Easier to Consume
For some people, capsules may be a challenge to swallow. CBD oils are the perfect solution as consuming only takes seconds. Since they are often sold as a spray or in a dropper bottle, it only takes seconds to administer. Of course, you should hold it for 30 to 60 seconds, but that is not considered problematic for most people.
However, many users may dislike the taste and texture of CBD oil. It has a flavor that can be described as raw and earthy. This may be an issue for some people who are not used to taking oil directly into their mouths, especially if they are holding it for the required 30 to 60 seconds that is suggested for maximum body absorption.
CBD oil is not the ideal option if you want to take CBD unnoticed. An issue some people face with taking CBD oil is that it is not the most discrete way to administer a dose when you're in public. Additionally, carrying around a bottle of CBD oil is inconvenient and risky. There is a chance that the container may leak in your bag, which might not make it the best option for traveling or if you'd like to carry it around a purse or a bag.
CBD Capsules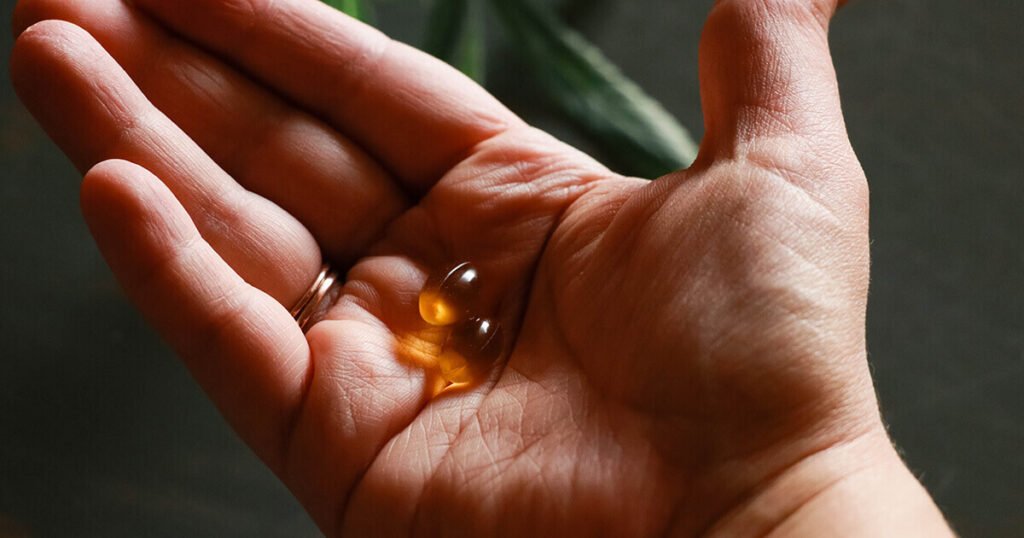 Convenient for Travelling
CBD oil and capsules are both convenient. Neither one takes too long to use. They're also easy to grab and fit into a bag when you're on the go. However, if you're pickier, capsules are probably a much more convenient option.
CBD capsules users simply need to swallow the capsules with water or any preferred beverage, which is a more convenient option in contrast to having to hold the oil under your mouth for 40–60 seconds when taking it.
Discrete for Use
Using a liquid dropper is not the most inconspicuous way to consume CBD oil, which is a deal-breaker for people who do not want to hear questions or comments about what you're taking. CBD capsules are subtler than CBD oil. There's no need to mess around with tinctures. Just pop a capsule with a few mouthfuls of your favorite drink at work or in public.
No aftertaste or flavor
CBD oil has a pretty distinct aftertaste that not everyone enjoys. The flavorless orally administrated capsules will provide an excellent alternative to oil. CBD taken in capsules contains an outer shell that you won't taste the cannabidiol at all while getting all the benefits.
Capsules have less potency compared to oils, and you may not feel their effects as quickly. CBD oils get absorbed more rapidly into your bloodstream and begin working.
In contrast, CBD capsules have to enter the stomach and go through the process of digestion. As a result, the compound will get filtered through the liver. This leads to losing a large amount of CBD before it can even circulate into your bloodstream.
Ultimately, the choice of how you would ingest CBD is entirely up to you. Each method comes with its own collection of pros and cons. It all comes down to your personal preferences and lifestyle. If you're new to CBD, the best way to find what works best for you is through trial and error.